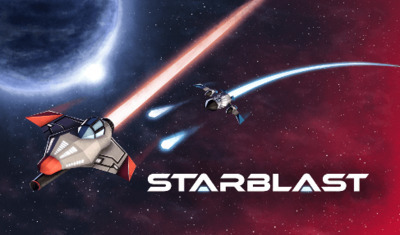 Is this the first game you have made? What was the first game you developed?
Our first game is Neuronball, a browser-based, multiplayer sports management and strategy game available at https://www.neuronball.com, which was released in 2014. We then created and launched Starblast.io end of 2016.
Why do you design games?
We started as a team of 2 developers, Mattamore and me. We are both experienced, passionate developers. Mattamore used to play a lot when he was younger and has a strong culture of gaming. I didn't play a lot myself but I was already programming games when I was teenager, back in the 80ies.
What languages / programs do you use?
For Starblast and other ongoing projects, we program in HTML5 (I mean essentially Javascript and WebGL) for client-side, and use NodeJS, MongoDB on the backend. We used python and Java in the past. Personally I like to use CoffeeScript to write cleaner Javascript code, easier to read and to maintain (in my opinion).
How big is your team?
We are now a team of 3: we hired Tournebulle, a great graphics artist. You can see some of the work he did for Starblast here: https://steamcommunity.com/app/673260/images/ (look for the Alpha Centauri Wars posters ; Alpha Centauri is a monthly event in Starblast, where 200 players join in a huge, epic space battle which often lasts for 5 to 10 hours).
Are you still working on your game and if so what future plans do you have for it?
We are still working on the game. We did a lot of balance or mechanics changes in the last few months to answer concerns raised by the community (especially for our team mode). Last year we introduced a modding system allowing contributors to create specific modes for Starblast, with custom ships, custom rules and features. We now have awesome mods that have already been created by the community and that we made officially available to everyone. The last we introduced was the "Nautic Series" (by Goldman) in January. There are many more cool mods currently in the making which we hope to release in the coming months.
What advice would you give to aspiring game developers?
If you firmly believe in your game idea, then start building it! Never give up, but also stay true to yourself ; seek a plan to go to market and succeed. We were really lucky to get on the io game train and take advantage of it. Without this new trend, I don't think we would have succeeded. Find your own train, or find some market entry strategy.
If someone wanted to make a game like this, what would they need to learn?
The same game could be made with many different frameworks and languages. If someone wanted to make a similar game with similar technologies, they would need to learn Javascript, WebGL (we use THREE.js on top of WebGL ; we learnt to create vertex and fragment shaders in GLSL for many different special FX or UI elements). We also use engine.io to deal with WebSockets for client/server communications.
What is your next project?
While we keep working on Starblast a bit, we also started creating mobile games. We have a kind of homemade framework ready, still based on HTML5 allowing to export games to iOS and Android with excellent performance. We have a few games prototypes in the making, some of which may be released in the coming months.
Is this your full time job or a side gig?
It started as a side gig and is now our full time job.
Where do you see IO games in 5 years?
I wouldn't bet anything. IO games could still be part of the picture, or maybe not. There is so much going on, mobile games, streaming etc. I just wish browser-based games have a bright future.
What is your favorite IO game, besides your own?
I don't have a particular favorite one, but I really like games from Rezoner for example: take a look at his site https://instantonline.io/. I would also like to mention games from our fellow French developers LapaMauve: starve.io and devast.io.
How has the reaction been to your game? Do you communicate with the community playing it?
The reaction has been amazing, it is still hard to believe! In the months following the release, a community quickly grew from nowhere, on Reddit (https://www.reddit.com/r/starblastio) and then on Discord (https://discord.gg/tvnvJTk). They urged us to create more modes, to go on Steam Greenlight, which we did. They helped us with balancing, improving the game, creating events, creating new spaceships (with a ship editor we created). We provided tools to the community and they created a lot of content in return. We released Starblast on Steam in November 2017 and then the modding system in May 2018, with a strong involvement of the community. We keep in close contact with the community, we are here on Reddit and Discord, reviewing the posts and ready to discuss with anyone.
Thanks PMGL for the interview. You can play Startblast.io at https://starblast.io/ or here on Bongo.Games. Their Discord channel is here.